This shop has been compensated by Collective Bias, Inc. and its advertiser. All opinions are mine alone. #FortunaForAll #collectivebias #cbias
Creating a cat friendly cantry has never been easier! Stock up on your favorite brands like the one pictured below!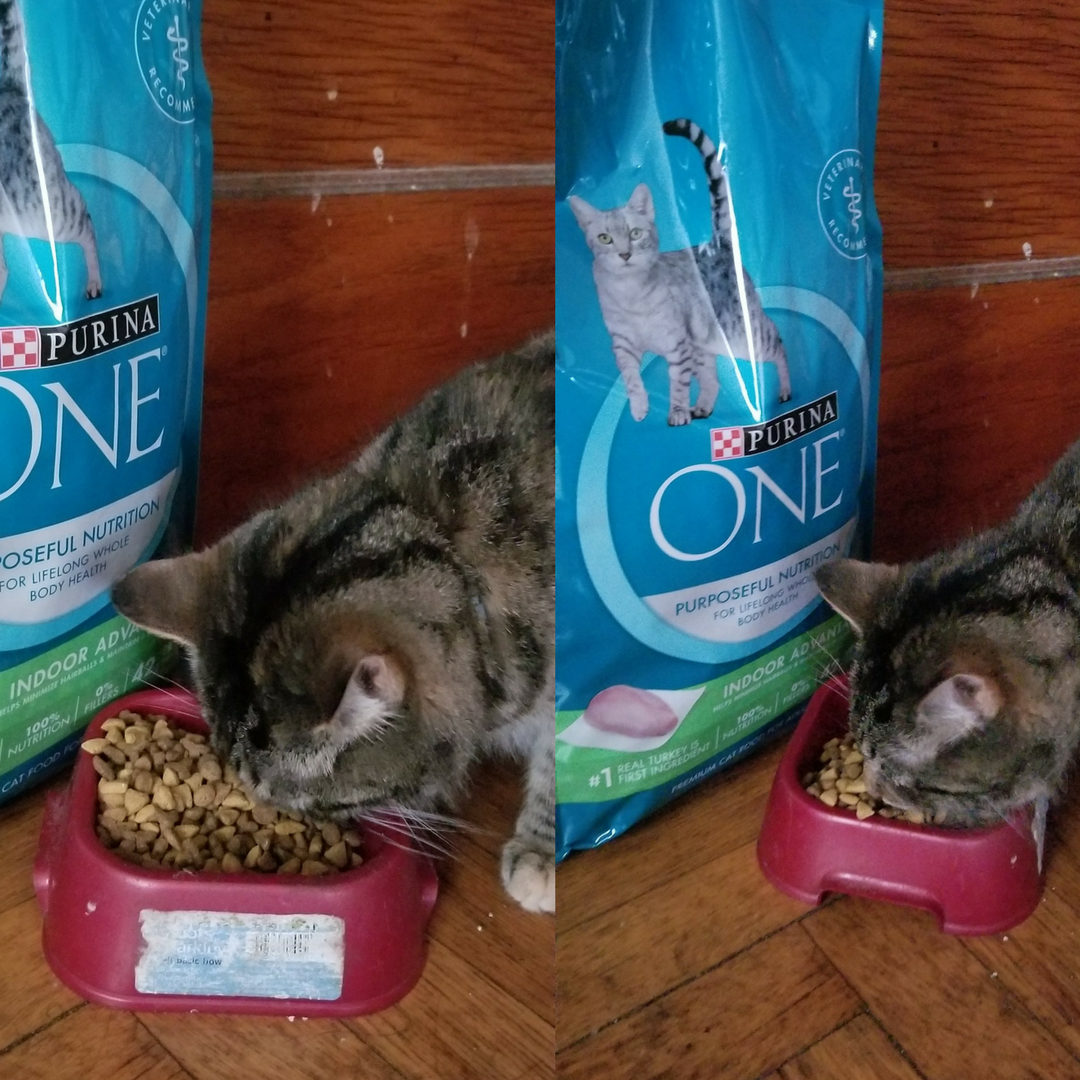 If my cat were to keep a diary, I would imagine that the morning entry would go something like this:
Listen for sounds of human waking up
If door does not open within ample time, scratch at door
If door still does not open, meow and scratch at door
Race the human down the stairs
Meow as the human still seems to think the liquid in the pot is more important
Continue meowing until the human produces the can of food
Wait for the human to realize that the food must be on my dish
That's her usual routine, regardless of the day of the week. She waits for me to wake up, goes downstairs with me and waits (somewhat patiently) while I make coffee. I like to think I'm her human, or at the very least, she recognizes me as such.
I'm pretty sure she chose me just as much as I chose her.
She's always been a fairly selective cat when it comes to what she'll eat. She prefers Purina® and we recently realized that we could start purchasing Purina® ONE at our local PetSmart.
We already like to purchase Purina® Tidy Cats Free & Clean Unscented Scoop from there, so it only made sense to start purchasing dry food as well.
We were also lucky enough to receive a fun box!
I was curious to see if my cat would have any interest in the Paws of Fate cards but alas, no. It was still pretty fun to look at.
Keep in mind, this cat usually takes no interest whatsoever in traditional cat toys. She absolutely loved the mice!
Take a look at PurinaFortunes.com for more details and to play Paws of Fate for your chance to win! There is no purchase necessary to win and you could win:
Instant Win Prizes
Purina Branded Tarot Cards (50 total) – ARV: $25/ea
$50 PetSmart Gift Card (15 total) – ARV: $50.00/ea
$25 PetSmart Gift Card (15 total) – ARV: $25.00/ea
$10 PetSmart Gift Card (25 total) – ARV: $10.00/ea
Grand Prizes (2)
1 Dreams of Fortune Cat Bed – AVR: $2,145
1 Dreams of Fortune Dog Bed – AVR: $2,145
Are you and your cat, fans of Purina? See what else they have to offer and redeem your receipts! But hurry, this special offer ends on 5/18 and you have until 5/31 to redeem your receipts on PurinaFortunes.com.
How else can you make the most of this? By creating a Cat Cantry! When you buy products in larger sizes, you may not need all of it right away. Keep dry food fresh by storing it in large, resealable containers. Store your litter in the pantry as well. Make space for your cat's favorite canned food, and if your cat is anything like mine, you'll want them out of the box so you can see the labels. This helps me to make sure that she's not getting the same flavor every day.
My cat has become my constant companion.
She gets me and I get her.
That's why I have no problems taking extra steps to make sure that she's happy.
The following two tabs change content below.
Content Creator
at
Kori at Home
Kori is an autistic mom who also happens to have ADHD and Anxiety. She is currently located in Albany, NY where she is raising a neurodivergent family. Her older daughter is non-speaking autistic (and also has ADHD and Anxiety) and her youngest daughter is HSP/Gifted. As an empath, HSP, and highly intuitive individual, Kori brings her own life experiences as an autistic woman combined with her adventures in momming to bring you the day-to-day of her life at home. Kori provides life coaching services for neurodivergent women (and those who identify as women) as well as Oracle card reading, Tarot card readings, and energy healing.